THE BOXERS ARE A SERIES STARTED IN 1999 AFTER BEING COMMISSIONED BY PR PUBLICIST AND FORMER ITALIAN FIGHTER VENANZIO CIAMPA. USING THE METAPHORICAL COMPARISON BETWEEN A PRIZE FIGHER AND PAINTER THE COMMISSION LED TO CREATING AND SELLING OVER 90 BOXING PAINTINGS, SKETCHES AND PRINTS WHICH HAVE BECOME ONE OF HIS MOST DESIRABLE BODY OF WORKS.   

KO #6, 2017, 3 PANELS, 40 X 112 INCHES, 
OIL, COLLAGE, MIXED MEDIA ON LINEN 


TYSON VS HOLMES, 2021, 24 X 24 INCHES 
OIL, ACRYLIC, CRAYON, PASTEL ON CANVAS 


CONOR MCGREGOR, 2019, 24 X 18 INCHES 
OIL, ACRYLIC, CRAYON, PASTEL ON CANVAS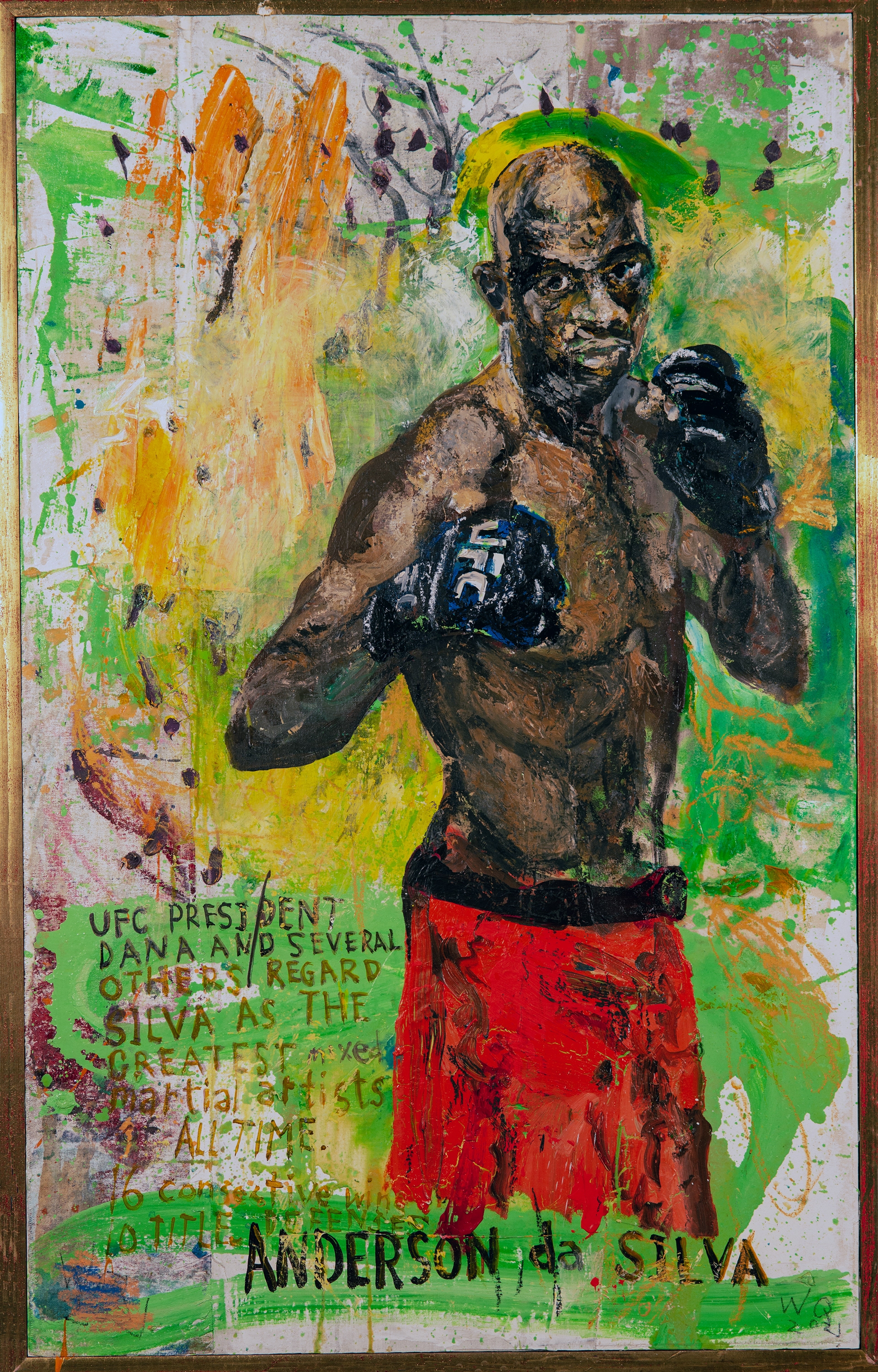 THE SPIDER: ADERSON SILVA , 2021, 50 X 31 INCHES 
OIL, ACRYLIC, OIL CRAYON, COLLAGE PASTEL ON ARCHIVAL WOOD PANEL
THE ICEMAN: CHUCK LIDDELL, 2021, 50 X 31 INCHES 
OIL, ACRYLIC, OIL CRAYON, COLLAGE PASTEL ON ARCHIVAL WOOD PANEL
KARL HUTTER FINE ART GALLERY,  APRIL 2016 BEVERLY HILLS
FOR THE EXHIBIT QUIGLEY JOINED 6 TOGETHER INDIVIDUAL 6FT HIGH PAINTINGS TITLING THE SHOW "ARE WE REALLY UNITED?"   INSPIRED BY PICASSO'S POLITICALLY CHARGED 32 FT 1937 MASTERPIECE 'GUERNICA' THE INSTALLATION WRAPPED AROUND THE ENTIRE GALLERY. SYMBOLIC METAPHORS REFERENCING AMERICAN SOLDIERS IN COMBAT, WOMEN'S UNRELENTING STRENGTH, CHILDREN ENJOYING THEIR YOUTH, PIANIST PAUL TILLOTSON, JOHN ADAMS, LINCOLN, AND RONALD REAGAN PORTRAITS WERE USED AS A SEGUE FOR THE THEME OF THE SHOW AS THE HEATED POLITICAL CLIMATE AND 2016 PRESIDENTIAL RACE INTENSIFIED.  IN 2013, 2 YEARS BEFORE ANNOUNCING HE WOULD RUN FOR OFFICE, DONALD TRUMP PURCHASED A 2006 8FT QUIGLEY TRUMP PORTRAIT, 7 YRS AFTER IT WAS PAINTED, AT A CHARITY BENEFIT SUPPORTING SOLDIER RIDE AND US VETERANS. PRIOR QUIGLEY, KNOWN FOR HISTORICAL PORTRAITS, HAD PAINTED PORTRAITS OF PRESIDENT CLINTON, BUSH, WASHINGTON, LINCOLN AND ADAMS. AFTER WINNING THE ELECTION THE INFAMOUS TRUMP PORTRAIT AND ITS STORY, BECAME ONE OF THE MOST TALKED ABOUT PAINTINGS IN US HISTORY.    

"I see the entire painting as one 32 ft piece, with each panel representing a different piece of the pie to the overall theme. I wanted the whole painting to be an artistic and historic interpretation of what I think America has become and things to consider going forward."
-William Quigley April 29, 2016

 Private Dealer Karl Hutter has a long history in the art world working at Gagosian Gallery in the 90s and Christophe Van de Weghe Gallery, (former director at Gagosian) independently since 1999. Karl Hutter Fine Art specializes in the exhibition and sale of paintings, works on paper and sculpture by American and international artists of the Modern, Post-War and Contemporary periods.  The gallery has presented historically focused exhibitions featuring works by Francis Alÿs, Andy Warhol, Bruce Conner, Adolf Fleischmann, Jean-Michel Basquiat, Cy Twombly, Roy Lichtenstein and Claude Monet.  Other artists who have exhibited with Karl Hutter Fine Art include Florian Süssmayr, Dennis Koch, Christopher Makos, William Quigley, Chris Thorson, Jedd Novatt, Paul Solberg, Brian Wills and Miwa Ogasawara.
LINCOLN , 2011, 60 X 54 INCHES 
OIL, ACRYLIC, OIL CRAYON, PASTEL, PENCIL, CHARCOAL ON CANVAS 
SOLD 2012 , Private Collection, Concord, MA
AMERICAN HISTORY, 2016, 74 X 74 INCHES 
OIL, ACRYLIC, OIL CRAYON, CHARCOAL ON CANVAS 
JOHN ADAMS  2016, 80 X 80 INCHES 
OIL, ACRYLIC, OIL CRAYON, CHARCOAL ON CANVAS 
​​​​​​​
WOMEN OF TIME ARE USUALLY UNDERESTIMATED 2016, 80 X 80 INCHES 
OIL, ACRYLIC, OIL CRAYON, CHARCOAL ON CANVAS 
​​​​​​​
ARE WE REALLY UNITED?  2016, 80 X 112 INCHES 
OIL, ACRYLIC, OIL CRAYON, CHARCOAL ON CANVAS 
​​​​​​​

SAM HOUSTON  2016, 72 X 84 INCHES 
OIL, ACRYLIC, OIL CRAYON, CHARCOAL ON CANVAS 
​​​​​​​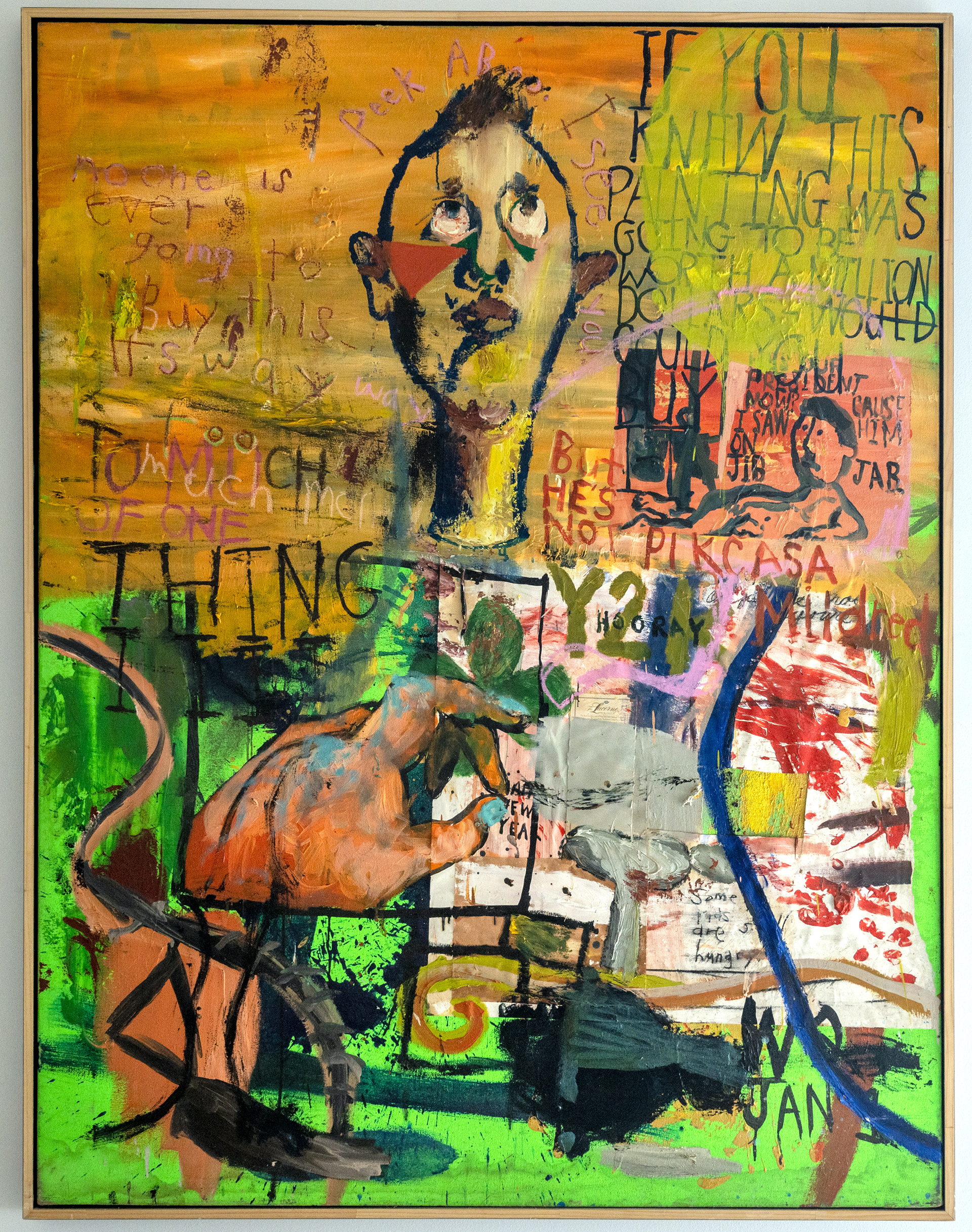 Y2K , 1999-2017, 72 X 54 INCHES 
OIL, ACRYLIC, OIL CRAYON, COLLAGE, CHARCOAL ON CANVAS 
HENDRIX, 2019, 72 X 72 INCHES 
OIL, ACRYLIC, OIL CRAYON, CHARCOAL ON CANVAS 
PART OF A SERIES 15 FT COMMISSION FOR ELECTRIC LADY STUDIOS NY
BRUCE, 2022, 72 X 54 INCHES 
OIL, ACRYLIC, OIL CRAYON, CHARCOAL ON CANVAS 
THIS IS THE 5TH PAINTING OF SPRINGSTEEN
PRINCE, 2019, 84 X 64 INCHES 
OIL, ACRYLIC, OIL CRAYON, CHARCOAL ON CANVAS 


UNFINISHED/ CAPTAIN BRAVEHEART, 2020, 75 X 60 INCHES 
OIL, ACRYLIC, OIL CRAYON, CHARCOAL ON CANVAS 
ROBERT DOWNEY JR OWNS THE FIRST OF THIS SERIES